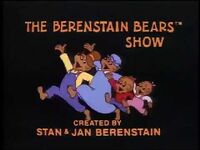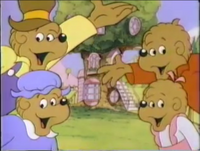 The Berenstain Bears is an Australian-American co-produced animated television series based on Stan and Jan Berenstain's Berenstain Bears children's book series, produced by Hanna-Barbera and Southern Star Productions. In the 2000s syndicated reruns, it was also produced by DIC Entertainment and distributed by Tribune Entertainment.
It aired on the United States from September 14, 1985 until March 7, 1987 on CBS with over 52 11-minute episodes in 26 half-hour shows produced. Each show consisted of two episodes, the first being an adaptation of one of the books, the second being an original story.
The series was nominated in 1987 for a Daytime Emmy award for Outstanding Performer in Children's Programming; it was also nominated that year for a Humanitas Prize in the category of Non-Prime Time Children's Animated Show.
Cast
Brian Cummings - Papa Q. Bear, Mayor Honeypot, Too Tall, Bigpaw, Jake, additional voices
Ruth Buzzi - Mama Bear, Grizzly Gran, Teacher Jane, Officer Marguerite, Queen Nectar, additional voices
David Mendenhall - Brother Bear
Christina Lange - Sister Bear
Josh Rodine - Cousin Freddy
Frank Welker - Raffish Ralph, Actual Factual, Weasel McGreed, Farmer Ben, Henchweasels, additional voices
Julian B. Wilson - Additional Male Voices
Marissa Mendenhall - Additional Female Voices
Additional Page