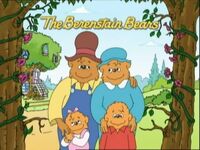 The Berenstain Bears is a Gemini Award- nominated animated television series based on the children's book series of the same name by Stan and Jan Berenstain. The series follows the lives of a family of anthropomorphic bears who learn a moral or safety-related lesson during the course of each episode.
Although most of the earlier episodes in the series were based on the book series, later episodes were not based on any of the books. The series debuted on January 6, 2002, along with George Shrinks and Seven Little Monsters and ended on September 10, 2005.
Synopsis
The series is set in a world populated solely by anthropomorphic bears and primarily centers around the Berenstain Bears, a family residing in the rural community of Bear Country consisting of Mama Bear, Papa Bear, Brother Bear and Sister Bear. Albeit numerous episodes are based on the books and promote the same morals as encouraged in the picture books from which their plots originated, the program's faithfulness to the original series is slightly mixed on account of a number of later episodes follow original storylines. Nonetheless, they mostly portray the same environment depicted in the original Berenstain Bears storybooks quite accurately and concentrate on the messages and lessons learned by the family through their different experiences, such as gratitude and responsibility, as well as the daily lives of the bears.
Production
The show was produced by the Canadian animation company Nelvana for the PBS Kids Channel, and the Treehouse TV channel. Eighty 15 minute episodes were produced.
The show can currently be seen on YTV (2006-2007, 2009–present) in Canada, PBS Kids Sprout in the United States. The series was also seen on Treehouse TV (Canada) (2003-2009) (and often fluctuated between the two channels), Knowledge (British Columbia), Tiny Pop and KidsCo (UK), and OBS (South Korea).
Additional Page