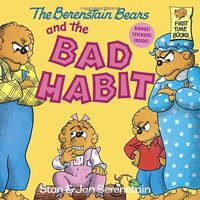 The Berenstain Bears and the Bad Habit
was one of the "First Time Books" series by Stan and Jan Berenstain. It was published in 1988.
Synopsis
Last spring, Sister ended kindergarden and got promoted to first grade. However, coming back to school, she and her schoolfriends learn it has a more disciplined structure than kindergarden, and the stresses are affecting cubs through bad habits, such as Sister's friend Lizzy Bruin chewing on her pencil. Sister's bad habit is biting her nails, which makes Mama takes notice of her gnawed fingernails. Mama bandages Sister's hands, but this attracts attention from bullies who torment her that "Sister is a nail biter!" The stress of the bullying causes Sister to remove her bandage caps and resume her nail biting. Papa tries another way, to give her a dime a day to break the habit. Regretfully, Sister makes no money from this, only earning herself frustration and discouragement. Papa's mother Gran remarks that she herself was once a "champion nail biter" and recommends Papa go from the other angle, ten pennies at the start of the day, which would jangle in Sister's pocket, reminding her they will be gone if she bites her nails. Although Sister suffers a few relapses and is forced to surrender a few pennies, after two weeks she now is cured of her bad habit and has 93 cents in her piggy bank! Brother suggests making a fast buck by starting a bad habit himself then getting paid to break it, but when his parents glower at him, he jokingly remarks "Just kidding!"