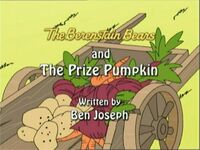 Summary:
Papa's longstanding friendship with Farmer Ben becomes strained when winning first place at a pumpkin growing contest becomes far too important. On Thanksgiving Day, after his pumpkin fails to take the blue ribbon, Papa is thankful that Farmer Ben still wants to be his friend in spite his un-neighborly behavior during the competition.
Quotes:
Gallery:
Trivia:
Differences from the Book:
Papa does buy a book about encouraging plants to grow. However, unlike the book, Raffish Ralph (whom Papa buys the book from) is never mentioned nor makes an appearance in this episode.
The book began with Papa, Brother and Sister removing weeds from the garden, while the episode began with them harvesting vegetables for Thanksgiving.
The scene with Brother and Sister doing their homework before Papa decides to enter the Giant into the Thanksgiving pumpkin contest was cut in the episode.
In the episode, Papa's desire to beat Farmer Ben in the pumpkin contest began after Farmer Ben called his pumpkin patch little. That wasn't in the book.
In the book, Mama told Papa, Brother and Sister that Thanksgiving wasn't winning contests but was about being thankful after the pumpkin contest, while in the episode, she told Papa about it before the contest.
In the book, Brother and Sister got home from school on the day before Thanksgiving break wearing their regular clothes, while in the episode they got home wearing pilgrim costumes they wore at their school's pilgrim day.
Papa doesn't not build a fence around the Giant so that it can grow bigger in peace in the book.
In the book, Brother and Sister accompany Papa when he goes to Farmer Ben's pumpkin patch to see if the Monster and his pumpkins are smaller than the Giant, while in the episode they do not.
Widder Jones doses not appear in the episode like she did in the book, Mrs. Grizzly (Who did not appear in the book), won second place in the pumpkin contest instead.
In the book, Papa and the cubs feel disappointed that they came in third place, while in the book they did not. Instead, Brother and Sister felt okay that they came third place while Papa congurated Framer Ben for winning and apologized for trying to beat him.
In the book, Brother, Sister, Papa and Mama have Thanksgiving dinner alone, while in the episode, Farmer Ben and Mrs. Grizzly had Thanksgiving dinner with them.
In the book Brother and Sister didn't know about Thanksgiving before Mama told them about it and also didn't know what it was really about due to Mama not being able to tell them until the end while in the TV episode, they already knew about Thanksgiving is and what it is really about.
Watch the Episode: